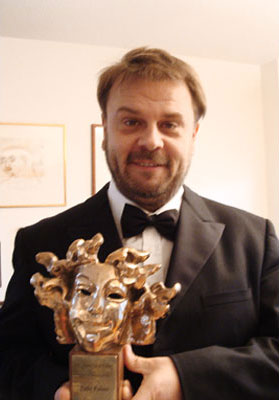 Winner of the Golden Mask 2007
Nomination text: "With a secure hand he lights up our environment on small stages to big arenas, both in Sweden and abroad. Year after year his lights shines in the darkness and blinds us with striking stage pictures where he in a very sensitive and skilful way strengthen and develop the action on stage. He is a master of lights !", 2007
Palmé Light Design AB
Postal address:
Box 38019
SE-10064 Stockholm
Phone:
+46 70 759 11 79
Email:
email hidden; JavaScript is required
Svenska pärlor
The question is not if the light-effects during the show was the main event. Now and then a blinding, magically strong light that the second later transforms to a subtle, feelingful and beautiful light. The lightdesign is one of the best I have ever seen during a concert in Sweden. The lightdesigner Palle Palmé is worth every penny he's getting in fee.
Phantom of the Opera
Extremely effective and dramaticly exciting is Palle Palmés flexible and exquisite lightdesign
Circus Scott
The magnifique lightdesign by Palle Palmé is already mentioned. In several numbers Palle create a complete magical feeling. Innovative, and I am not talking about the quality of the artists but about the tremendously striking and innovative lightdesign Palle Palmé has created for this show. It is lighteffects as on a big rock'n'roll show but still - the lights are never in charge but always helps the artists to heightening their numbers. The lightdesign are very effectful. In the manege it paints with suggestive patterns and colours always in symbios with the number. Even glowing clubs and clothes helps to lift the show which is a feast for the eye
BOUNCE - The Score
The lightdesign for the show earns a special mention. With visible simple tricks he has succeded to create different moods and on the end real sharp special-effects with a cascade of flying helicopters, asteriods and planets
BOUNCE - One flow over the cuckoo's nest
The music, dances, and lighting was PERFECT.
BOUNCE – One flow over the cuckoo's nest
Combine this with atmospheric lighting and versatile sets and you've got a popular hit.
BOUNCE – One flow over the cuckoo's nest
With the dormitary dance in which spectacular lighting enhances the dance.
The Daily Express – London